Commander's Welcome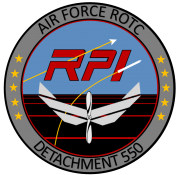 Welcome to the Air Force Reserve Officer's Training Corps (AFROTC) Detachment 550, Rensselaer Polytechnic Institute (RPI) in Troy, NY. Detachment 550 serves as the "host" unit for cadets at RPI and 22 regional cross-town colleges and universities. We have a proud heritage of "forging warrior leaders" beginning with the first commissioning class in 1949 and subsequently commissioning over 1,300 Second Lieutenants in the last 70 years. We offer you an opportunity to become a part of our legacy and a professional officer in the United States Air Force and Space Force.
AFROTC gives you the opportunity to stretch yourself, step out of your comfort zone, and begin developing the leadership skills the Air Force and Space Force are looking for. The cadet wing at Detachment 550 is entirely cadet-run with the cadre providing instruction, oversight, and mentorship. Our cadets learn the foundations of the Air Force, leadership fundamentals, and national security affairs in a classroom setting while developing and practicing their leadership techniques during weekly cadet-run "leadership laboratories." Our active duty cadre members are experienced Air Force professionals from a variety of career fields and have been competitively selected to teach and mentor the next generation of Air Force and Space Force leaders.
We are proud to guide you through the process of earning a commission in the United States Air Force. The Air Force offers scholarships to high-quality high school seniors and enrolled college students whose leadership potential and planned major fields of study meet Air Force accession objectives. AFROTC is not limited to just scholarship students though; any high-quality student can join our program and commission as a Second Lieutenant. Please visit www.afrotc.com for more information.
Jake Miller, Lt Col, USAF
Commander